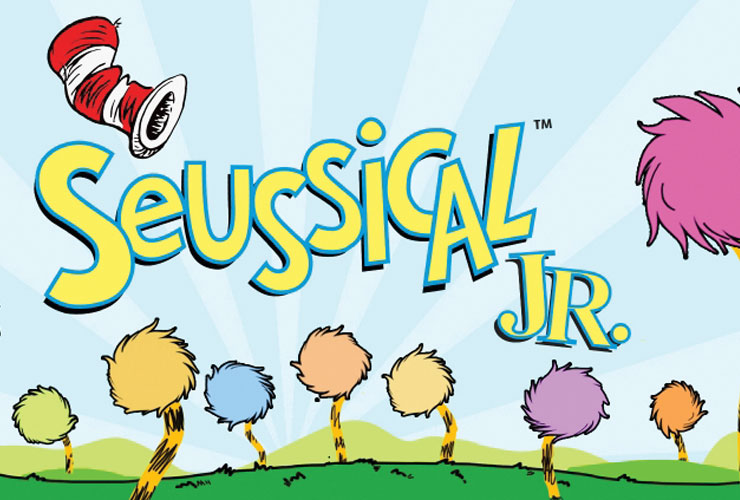 Put on a show with the Schauer School of the Arts! Experienced instructors and staff will take students through the process of putting on a musical which culminates in Schooltime Matinee and public Family Series performances. These performances are complete with costumes, scenery, playbooks, lights, and sound. Cast and crew opportunities are available for ages 7-18. Tuition fees apply.
Schauer Rising Stars Presents: Schauer Rising Stars Productions: Seussical Jr.
Ages 7–18
Seussical Jr. Performances:
January 13, 2022 | 10:00 am & 12:30 pm
(Schooltime Matinee Performances)
January 14, 2022 | 7:00 pm (Public Performance)
January 15, 2022 | 2:00 pm (Public Performance)
Location: Schauer Arts Center | 147 N. Rural St.
Horton the elephant, the Cat in the Hat and all of your favorite Dr. Seuss characters will spring to life onstage in Rising Stars Production's Seussical Jr.!
Director: Therese Burazin
Music Director: Naiza Delicia Gohr
Choreographer: Dani Kuepper
Set Designer: Katrina Sturtzen
Costume Designer: Lori Matasek
Light/Sound Designer: Eli Schellinger
CAST
Seussical Jr. Auditions:
Saturday, October 23, 2021 | 9:00 – 11:00 am (Ages 7–11) | 12:30 – 3:30 pm (Ages 12+)
Audition is required for participation. There is no fee to audition. Pre-registration is required for the audition. Cast & Crew list will be posted by Sunday, October 24. Students must be available for all dress rehearsals and performances to audition.
Rehearsal Information
First rehearsal and parent meeting will be Tuesday, October 26 5:00-7:00 pm, where cast/crew will receive detailed schedule information. Rehearsals will run Tuesdays & Thursdays 4:30 – 6:30 pm and alternating Saturdays 9:00 am – 12:00 pm. Evening rehearsal times will be extended in December and January.
Tuition: $250 (for those cast in production, due November 1, 2021)
Includes cast t-shirt, professional instruction, registration fee, and two complimentary tickets for a public performance.
CREW
The following "behind the scenes" positions are available for students 12+:
Assistant to the Director
Student Lighting
Student Stage Crew (6 positions)
Tuition: $80
Includes crew t-shirt, professional instruction, registration fee, and two complimentary tickets for a public performance.
Audition Form AND Waiver Form are required in order to audition. Forms are available on our website, at the Schauer Arts Center Box Office, and on the day of auditions.