Ruth A. Knoll Theater
All Mainstage Series events take place in the Ruth A. Knoll Theater and have three tiers of seating: The theater has 3 seating tiers. Tier 1 — Main floor and the lower 3 rows of the Stadium. Tier 2 — the upper 4 rows of the Stadium. Tier 3 — the second and third rows of the side wings and second row mezzanine. Some seats are marked obstructed view and are the lowest price. Note also seats marked as limited mobility. If someone in your party needs wheelchair or limited mobility seating, it is best to call the box office so staff can help identify the most accommodating seats for your group.

While FAMILY events also take place in the Ruth A. Knoll Theater, they are geared towards younger audiences, so please adhere to the following policies:
Everyone — regardless of age — must have a ticket. Babes in arms will not be admitted.

Children under age 7 are not allowed in the balcony.

Youth ages 16 and under must be accompanied by an adult in the balcony.

One adult is recommended for every three students seated in the balcony.

Lap seating is available for children up to age 2 for FAMILY events, but the child must remain seated on an adult's lap for the duration of the performance.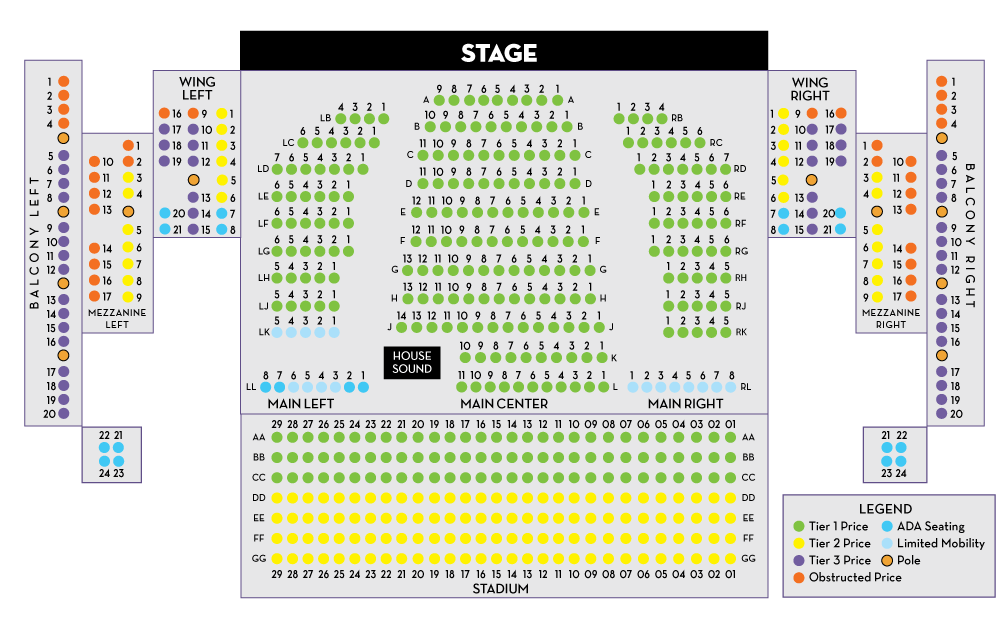 Pikes Peak Cabaret
Located on the upper level in Pikes Peak banquet room, Cabaret events have reserved table seating of four (4) or five (5) per table. Cabaret seating is in two tiers: PREMIUM and STANDARD. STANDARD seats receive a discount off of PREMIUM prices. Please be aware that the STANDARD tables are behind the PREMIUM tables.