Adult Classes
OPEN LEVEL TAP Ages 16+
Location: Creative Arts Studios | Creative Arts Studio A
Instructor: Tori Isaac
Wednesdays 8:00 pm – 9:00 pm
Winter Session: January 19 – March 9
Spring Session: March 16 – May 11 (No class on March 30)
Tuition: $96 | 8-Week Session
Register for both Winter and Spring Sessions by January 19 and save!
Take Winter and Spring Session for $176
Whether you would like to brush up on old skills or are looking for an enjoyable way to get yourself moving, individuals of all experience and skill levels are welcome.
Winter Open Level Tap Registration
Spring Open Level Tap Registration
HAPPY DANCE HOUR—SOCIAL DANCE SERIES Ages 18+ | Must Be 21+ to Drink
Tuition: $20 Per Person/Day
Includes Dance Instruction & First Drink
Location: Schauer Arts Center | Pikes Peak
Instructor: Jacqui Lefebvre
Mondays 6:00 pm – 7:30 pm
Register for all by January 24 and save! Take all seven Happy Dance Hour classes for just $119
January 24—Polka and a Pint
February 7—Tango and Tom Collins
Tango and Tom Collins Registration
February 21—Waltz and White Russian
Waltz and White Russian Registration
March 14—St. Paddy's Line Dance and Irish Coffee
St. Paddy's Line Dance Registration
March 28—Merengue and Mojito
Merengue and Mojito Registration
April 11—Fox Trot and Fuzzy Navel
Fox Trot and Fuzzy Navel Registration
May 2—Swing and Scotch
Kick up your heels and learn a variety of social dance styles with expert dance instructor Jacqui Lefebvre. Signature cocktails are paired with dance styles in a combo that will put some pep in your step!
---
WINE & ART Ages 18+ | Must be 21+ to Drink
A relaxing night of creativity with friends.
Tuition: $35 per Workshop | Includes Supplies & First Drink
Location: Schauer Arts Center | Pikes Peak
December 7 — Joyful Snowman | Deb Pettit
February 3 — Mandala Painting | Sandy McCambridge
February 17 — Colors + Our Lives: Bringing Color Into Everyday Design | Claire Osterman
March 3 — Sweet Shop Paintings | Jeanne Kollmeyer
March 24 — Easter Basket | Terri Fuetz
April 21—Board Stenciling | Sandy McCambridge
May 19—String Art (Wisconsin Proud) | Dana Kleiman
Wine & Art Cancellation Policy
Current Classes
Wine & Art | Joyful Snowman
Tuesday Dec 7 2021 – Dec 7 2021 | 5:30 PM
Wine & Art | Mandala Painting
Thursday Feb 3 2022 – Feb 3 2022 | 5:30 PM
Watercolor Classes | Beginning - Intermediate
Saturday Feb 26 2022 – Apr 9 2022 | 9:00 AM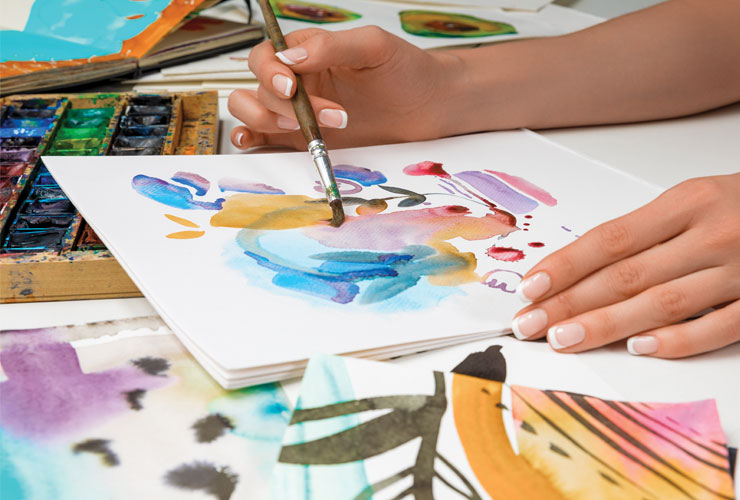 Wine & Art | Sweet Shop Paintings
Thursday Mar 3 2022 – Mar 3 2022 | 5:30 PM
Wine & Art | Easter Basket
Thursday Mar 24 2022 – Mar 24 2022 | 5:30 PM
Wine & Art | Board Stenciling
Thursday Apr 21 2022 – Apr 21 2022 | 5:30 PM
Wine & Art | String Art
Thursday May 19 2022 – May 19 2022 | 5:30 PM