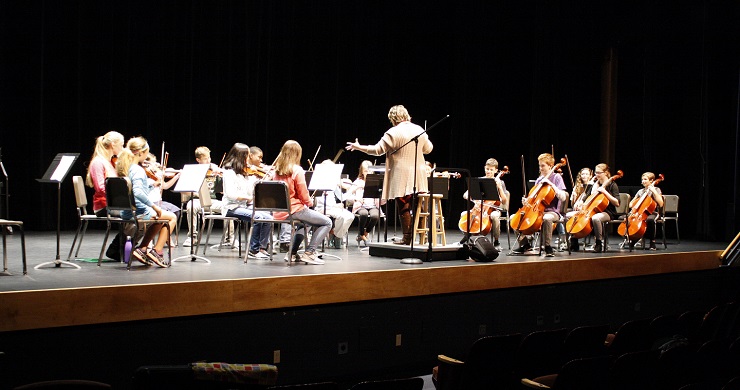 SYSO Returns!
SSA announces the return of the Schauer Youth String Orchestra program and welcomes string players who have at least one year of experience in a school district or private lesson program. Register today: 262-670-0560 x3 or register online below. For more information, please contact the Schauer Center at info@schauercenter.org. Students who enroll at a later date after the class has started will receive an adjusted fee according to their start date.
SYSO is dedicated to providing local youth players with traditional strings training in an environment that is open to all levels and visions. Students gain experience in playing with an ensemble while still receiving one-on-one guidance and support from a professional instructor.
SYSO meets once a week to rehearse. Performances include concerts in the Ruth A. Knoll Theater at the Schauer Arts Center, as well as occasional community events.
Why Enroll in SYSO?
Why play in Schauer Youth String Orchestra? Many parents wonder why their child should play in orchestra when they take private lessons or are in school orchestra.
Here are some reasons why your child or student should consider being in Schauer Orchestra. First, and foremost, orchestra helps to reinforce techniques and musical concepts students have learned in a fun environment. Not only does orchestra reinforce techniques students have learned but it also introduces more advanced techniques to students, allowing them to progress faster as players. In a smaller orchestra, there are more opportunities to do this and to receive individualized coaching.
Second, orchestra provides a social and educational environment for motivation. As students participate in orchestra, they learn to become team players and work with others for a common goal of creating beautiful music. Orchestra helps instill the discipline of following the leader. Besides this, students learn how to interact with others and build relationships with peers as they play alongside other players who are truly motivated to be there. As they play with other players, many students are motivated to work harder on their instrument because they desire to become the best player in the group.
These are just two broad reasons why you child or student should consider being in orchestra. Orchestra not only prepares students to be better players, but it also sets them up for success in the workforce and in life in general as they learn skills that not only apply to music but to life.
Current Classes
Schauer Youth String Orchestra | Fall 2021
Wednesday Sep 15 2021 – Dec 8 2021 | 5:00 PM